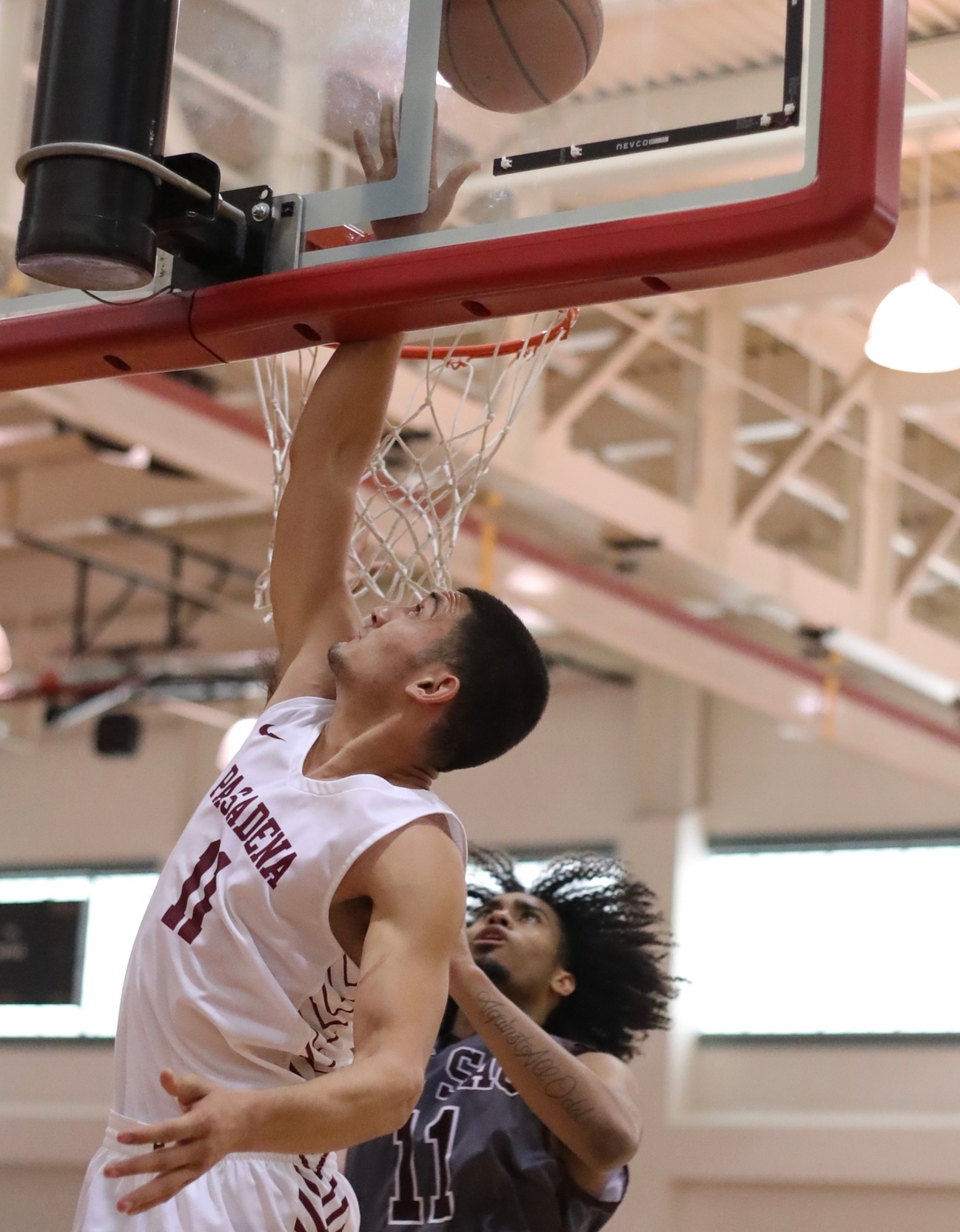 The Pasadena City College men's basketball team is finding more of an identity with a 4-1 mark in its last five games, including taking third place at the 8-team, Lancers-hosted Skip Robinson Classic Nov. 14-16. When PCC puts its foot to the pedal on defense, it's turned into baskets going the other way.
On Nov. 16, the Lancers trailed by 10 at halftime, but rallied in the second half to defeat Mt. San Antonio, 85-82, to capture the third place trophy. Defensive-minded guard London Benford was named All-SRC Tournament for PCC. Pasadena went on a 12-0 run to start the last 20 minutes for its first lead, 46-44. Mt. SAC would regain a 7-point lead but the Lancers came right back in a plodding, free throw battle over the last seven minutes.
With 2:27 left, Rasheet Wilson made a driving layup for the final lead change of the game, 76-74. Wilson and Benford each sank two free throws over the last 20 seconds to seal the victory.
Overall, the 3-person referee crew headed by Janetta Graham, whistled 50 fouls, 27 on the Lancers with three PCC players fouling out. Forward Gabriel Ajemian scored a game-high 24 points with seven rebounds while Wilson added 18 points (9-for-9 from the line). Guard Anthony Gamboa added 11 points while forward Lafayette Sanders scored 10. Benford was the only Lancer to play all 40 minutes as he was part of a swarming second-half defense that created 15 of Mt. SAC's 22 turnovers.
PCC was 29-for-41 from the charity stripe (70.7 percent) while the Mounties were 23-of-38 (60.5 percent).
In the championship semifinals on Nov. 15, Pierce beat the Lancers, 83-79, but not before a late rally by PCC. The Brahmas led by as much as 17 points, and held a 16-point advantage, 66-51, with 10 minutes left. At that point, PCC's defense kicked into high gear and Patric Panoosi hit back-to-back 3-pointers that cut the lead to seven. A pair of free throws by Dominick Erby sliced the lead to two, 81-79. PCC twice had chances to tie it in the last 5 seconds. After a turnover gave Pierce the ball, the Brahmas turned it right back to PCC on an inbounds play with four seconds left. Ajemian missed a a jumper and Pierce held on, adding two free throws for the 4-point win.
Ajemian had another big game with 25 points, five rebounds and four steals. Wilson and Panoosi each added 13 points while Jesse Watkins tallied nine. For Pierce, Wayne Currie poured in 27 points.
"When we keep the pressure on with our defense, it opens up for fast breaks and more open shots on the offensive end," said PCC head coach Michael Swanegan. "We didn't get going until it was a little too late v. Pierce, but we did a good job against Mt. SAC. Overall, I'm pleased with the way we are progressing after our 0-3 start."
Santiago Canyon won the Skip Robinson Classic title with a resounding 110-73 victory over Pierce in the championship game. The Hawks (7-0) were led by tourney MVP Antoine Jenkins with 21 points and 11 assists while the long-range bombers of SC drained 19 shots from 3-point range. LA Trade Tech took the consolation title with a win over Glendale, 69-67, while LA Southwest took seventh place in a 89-66 triumph over Barstow.
ALL-SKIP ROBINSON CLASSIC TEAM
MVP-Antoine Jenkins, Santiago Canyon
A.J. Garrity, Santiago Canyon
Kevin Fassu, Pierce
London Benford, PASADENA
Mark Chin, LA Trade Tech
The Lancers host Glendale on Wednesday, Nov. 20 in a non-conference game at Hutto-Patterson Gymnasium. Tip-off is 6 p.m.
Jesse Watkins takes a shot in Saturday's win.