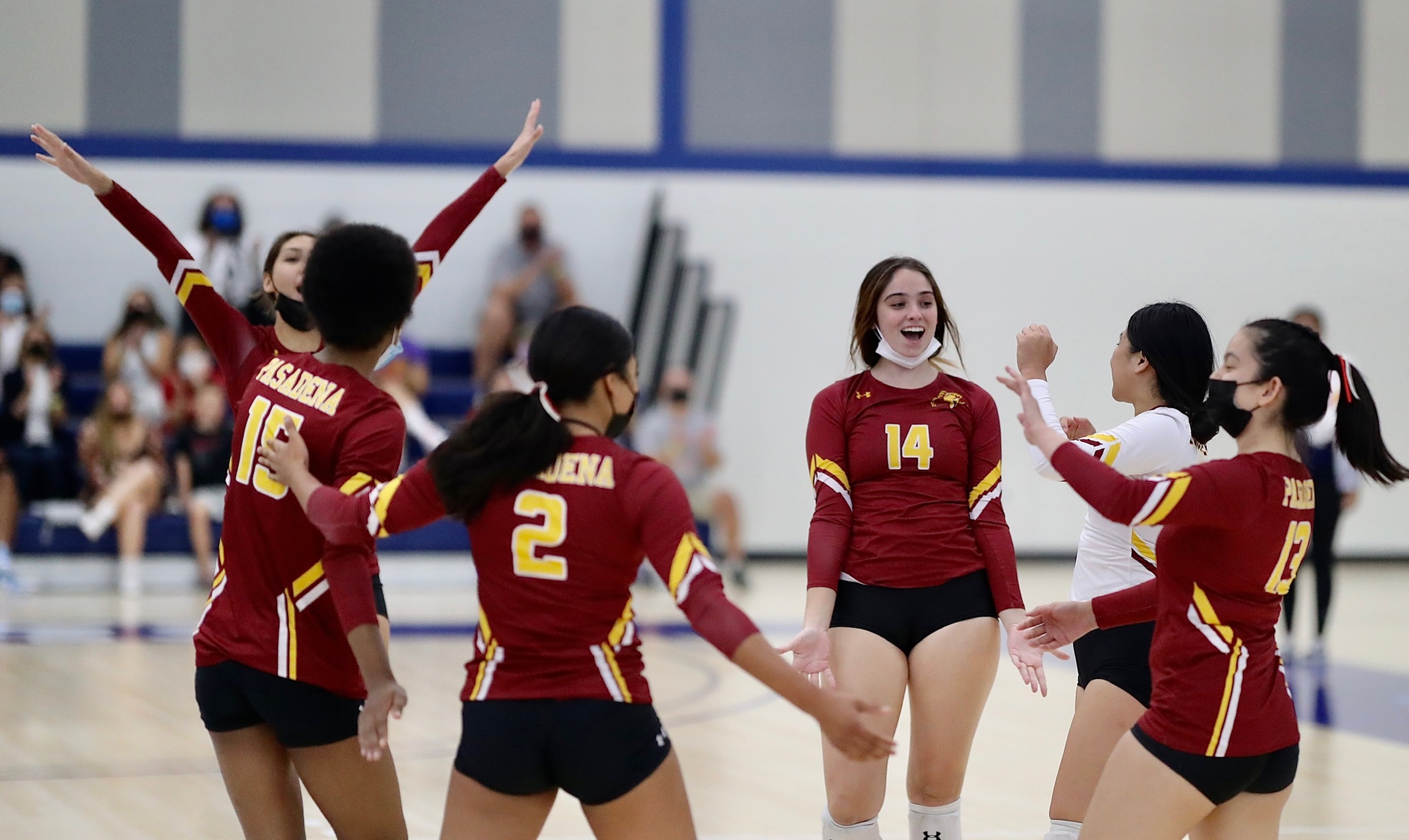 Seeded No. 2 for the postseason, the state #5-ranked Pasadena City College women's volleyball team hosts No. 15 seed College of the Canyons in a Southern California Regional Round 1 match on Tuesday. The playoff contest will have a 7 p.m. first serve at Hutto-Patterson Gymnasium.
The South Coast Conference champion Lancers (23-1 overall) carry a 20-match winning streak into the playoff encounter against a recently hot COC team (14-10 overall) that won its eighth straight match on Saturday, defeating #18 seed Mt. San Jacinto in a 5-set thriller in the Play-In Round. Canyons is the second place finisher behind #1 region seed Bakersfield in the Western State Conference South Division.
The Cougars were ranked #24 in the CCCWVCA Final Regular Season State Top 25 and have a few quality victories, including 5-set wins over both #18 Ventura and #21 Grossmont. Against like opponents, Canyons was 4-5 while PCC went 9-1 v. similar teams. Pasadena defeated Cypress, MiraCosta, Ventura (COC went 1-1 v. the Pirates) and Long Beach City twice, all squads that the Cougars went down to defeat against.
All-American Third Team, All-State outside hitter Nalani Young, SCC Tournament MVP and opposite Camila Sanchez-Tellez, and All-SCC First Team middle blocker Monet Latunde lead PCC into the regional tilt. Canyons is paced by 6-foot outside hitter Caitlin Liebe, an All-WSC First Team selection who equaled her season-high with 18 kills (.444 attack percentage) in Saturday's playoff win. Another tough outside hitter is Ariana Vargas, who doubled her previous high with 16 kills (hit .560) v. MSJC. Canyons is guided by head coach Clay Timmons in his sixth season as head coach and 17th year as part of the COC staff.
In his fifth season directing the Lancers program, head coach Mike Terrill is 2-3 in playoff matches, both wins in the Play-In Round. Pasadena is looking to get past Round 1 for the first time since the 2013 season. PCC is 2-3 in its history v. Canyons and the colleges last faced each other in 2017 (a sweep by Canyons at the Pierce Tournament).
The winner of the PCC-Canyons match will play the winner of the #7 Irvine Valley v. #10 Ventura match on Saturday, Nov. 27 in Round 2. Pasadena will host that match if it gets past Canyons and match time is 7 p.m.
Admission prices for all Regional Playoff matches (sold at the front door on the second floor of the GM Building, front entrance to the HP Gym).
1. $12.00–General Admission
2. $8.00–All identified students, faculty, staff, senior citizens age 60 and over, and children less than 12 years of age.
3. $1.00—Youth groups of eight or more.
COVID-19 protocols in effect for PCC sporting events apply. (click next link) Health Survey then show an approved green check to the ticket person at the gym entrance.
SoCal Regional Playoff Bracket
SoCal College Sports will present a special free live stream broadcast of the COC v. PCC match at the following link: SoCal College Sports