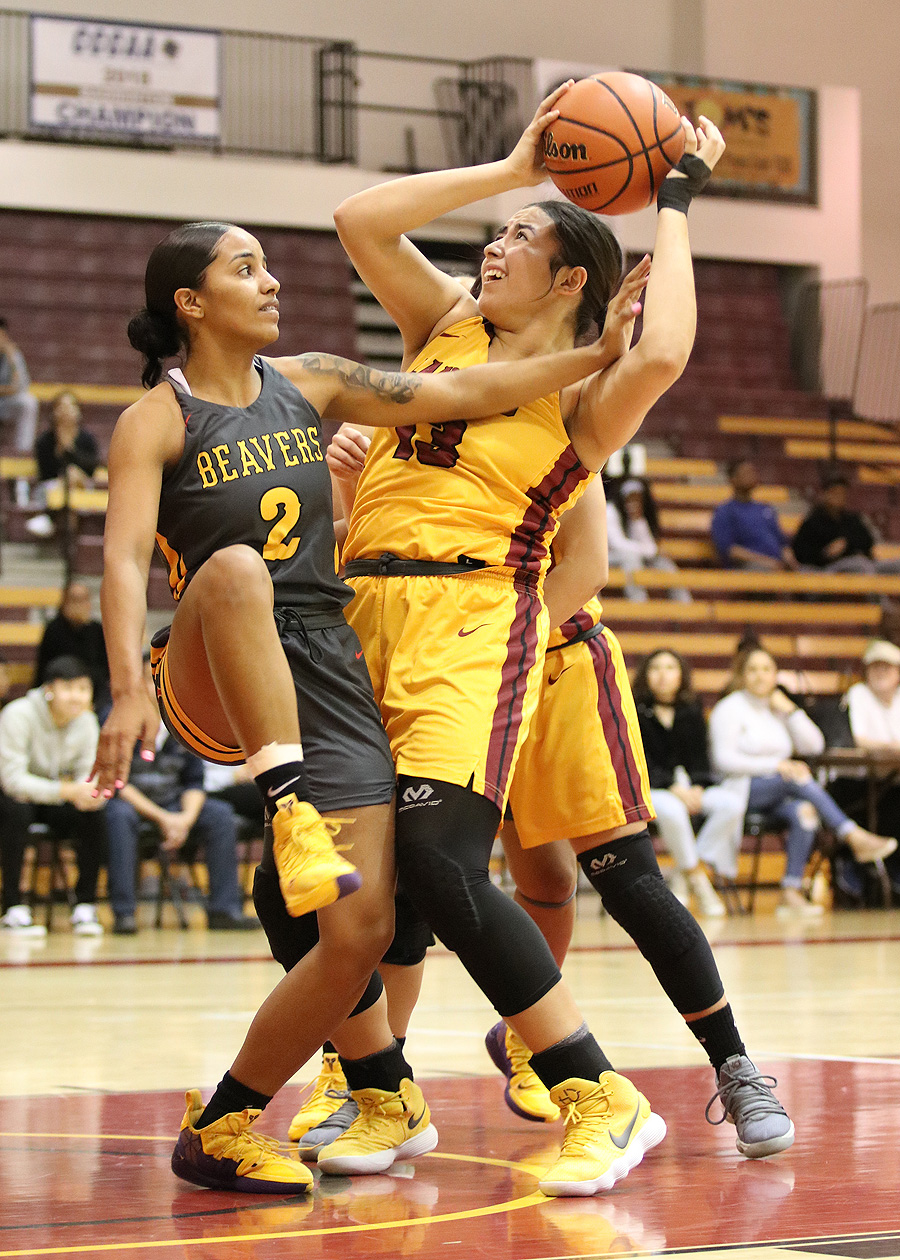 Los Angeles Trade Tech had a simple plan to frustrate the Pasadena City College women's basketball team Wednesday night. The Beavers put all their efforts in stopping Lancers center Dariel Johnson and their punishing post defense was the story as the state No. 7-ranked Lancers were held to a season-low in points in a 55-41 loss to No. 6 Trade Tech.
PCC lost two straight for the first time this season as it record stands at 16-5 overall and 1-2 in the South Coast Conference North Division. Trade Tech is 19-4 and 2-1 in the conference. State #4 rated East Los Angeles leads the conference at 3-0 and No. 10-ranked Mt. San Antonio is 2-1.
Johnson was held to just six points and only nine shots from the field as Trade Tech center Kemanie Patterson was a defensive demon in the post and was helped often by double teams when Johnson would try to get free. Johnson did grab 10 rebounds but it was a rare game that the state MVP candidate didn't lead the Lancers offense.
Pasadena has prided its season on team defense (No. 2 in the state in points allowed per game), but it was Trade Tech's defense that limited PCC to its lowest-scoring first half at home in the 23-year history of Coach Joe Peron's program (In Dec., 2012, Mt. San Antonio held the Lancers to 13 points). PCC actually led 9-7 after one quarter on a 3-pointer by Jade Lin. In the second period, the Lancers went stone cold as the Beavers went on a 16-4 run and took a 23-14 halftime lead into the locker room.
Overall, PCC committed a season-worst 26 turnovers, many forced on 17 LATT steals, including five by Patterson. Another defensive wizard for the Beavers was reserve guard Deejanae Poland who blocked six shots, stopping PCC's perimeter shooting. Cheyenne Givens also made five steals. The Lancers and Johnson led the state in blocks, but Trade Tech outblocked Pasadena, 10-3, in this contest.
The Lancers mounted one run to close the gap during the third quarter, cutting the LATT lead to 29-26 on a putback lay-in by Alexandra Arreola. The momentum was short-lived as Trade Tech built the lead back to double digits, 42-31, on a Givens layup with 7:54 left in the game.
Cosette Balmy was the only consistent Lancer as she scored a team-high 13 points, grabbed 11 rebounds and made seven steals (plus three assists). Lin added nine points (three treys) and Arreola scored six points. Trade Tech's top scorer was Cheyenne McKinnie with 15 points and 11 rebounds.
PCC shot just 21.7 percent from the floor and made only 15 field goals. The free throw shooting was also poor (8-for-19). While Lin was 3-for-4 outside the 3-point circle, the rest of the team shot 0-for-17 from long distance.
The Lancers hope to get back on the win track Friday, Feb. 1 as they play at Mt. San Antonio in a 7 p.m. conference tip-off.