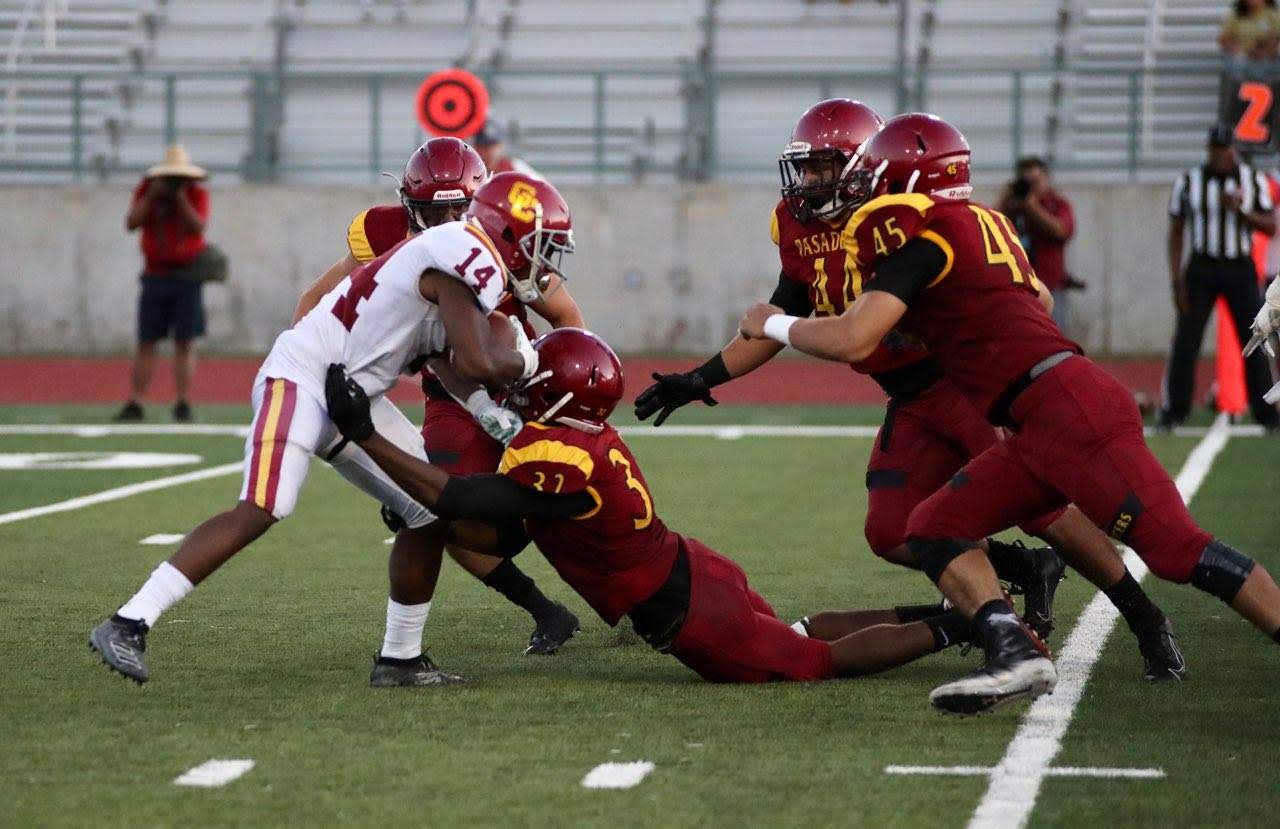 Down 25-0 after the first quarter, the Pasadena City College football team could have followed script and let the state #4-rated and upper SCFA National Division Saddleback Gauchos run up the score Saturday night. Instead, the lower-American Division Lancers battled the last three quarters and made things more than respectable in a 53-28 loss at Robinson Stadium.
PCC saw its 4-game program winning streak end and fell to 2-1 while Saddleback is 3-0. The Lancers cut the lead to 18 with 6:35 left and actually recovered an onside kick but Saddleback twice sacked PCC quarterback Edward Norton on the ensuing series. The Gauchos sent back in their starting offensive unit and added a touchdown with 1:17 remaining that only proved that PCC had rattled their opponents and were not pleased that the Lancers didn't fold their tents. Pasadena matched Saddleback, 28-28, over the final three quarters.
Running back Luring Paialii opened PCC's scoring on a 4-yard TD run with 3:24 left in the second quarter. Lefty option quarterback Norton came off the bench for the third straight week and delivered a 37-yard scoring bomb to wide receiver Jabari Kindle with 27 seconds left before halftime that cut the Saddleback lead to 32-14.
Saddleback upped the score to 46-14 before PCC roared back on a 27-yard TD run by Norton, who then ran in the 2-point conversion 1:07 into the fourth period. On the Lancers next series, it was starting QB Kade Wentz's turn to move the chains as the team went on their longest drive of the game, 13 plays and 57 yards. Wentz connected with Jahlique Stephens for a 15-yard TD aerial that was PCC's last hurrah at 46-28.
Norton again was PCC's most impressive offensive player with 89 yards passing (5-for-10) and a team-high 79 yards rushing in 14 carries.
Defensively, safety Andy Reyes had a 52-yard interception return, two kick returns for 56 yards and two punt returns for 45 yards in a heroic effort. The team's other starting safety Darren Meyers made 10 tackles, including seven solos.
Cornerback Kaydon Spens contributed eight tackles while linebacker Hector Palacios added a sack and a QB hurry. Named week #2 SCFA American Division Defensive Player of the Week v. Glendale, the sophomore Palacios leads the state in sacks with 6.5. Teammate and fellow outside LB Craig Francois leads the state in tackles behind the line of scrimmage with 10 for 65 yards loss (including five sacks).
The Lancers had no turnovers in 66 offensive plays and had an adequate ground game that totaled 160 yards in 45 carries.
PCC will next travel to face undefeated Chaffey College (3-0), a team as high as No. 13 on the sports information state rankings and just upset coaches #6-rated Mt. San Antonio, 24-22, on Saturday. Kickoff is 6 p.m.